ARCHIVE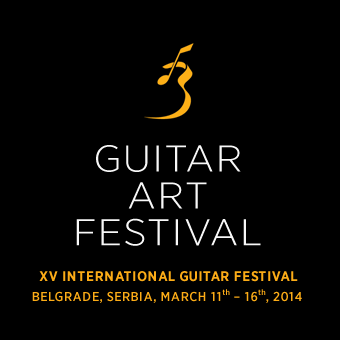 Guitar Art World
(March 15th & 16th, 2014, Belgrade Youth Center)
Guitar Art World is a new segment of the festival which is dedicated to: guitarists of all profiles and creative music education for children and adults troughout further activities: Guitar Open Stage, creative workshops for classic, acoustic and electric guitars with renowned guitarists and music workshops for children.
BELGRADE YOUTH CENTRE
15th and 16th of March, 2014.
Guitar Art World is a section of the festival which puts the guitar as a general term in its center of action. Through the activities it shows the significance of the guitar in various aspects of artistic, historical and social categories.
ACTIVITIES: SEMINARS, DISCUSSIONS, WORKSHOPS, CONCERTS, TRY-OUTS
PROGRAME:
Saturday, 15th of March 2014.
Belgrade Youth Center /Panel Hall
12:00 – 19:00 Workshops and lessons of the Creative Guitar Course
Belgrade Youth Center Hall
12:00 – 19:00- Projections of Guitar Art Festival's concerts
Sunday, 16th of March 2014.
Belgrade Youth Center /Panel Hall
11:00 – 15:00 – Workshops and lessons of the Creative Guitar Course
Belgrade Youth Center /Americana Hall
12:00 – 15:00 – Overview of the Try-out's material
Belgrade Youth Center /Americana Hall
15:00 – 16:30 – Seminar: development and influences of the guitar in culture
Belgrade Youth Center /Americana Hall
17:00 – 20:00 – Creative Guitar Course students' concert