ARCHIVE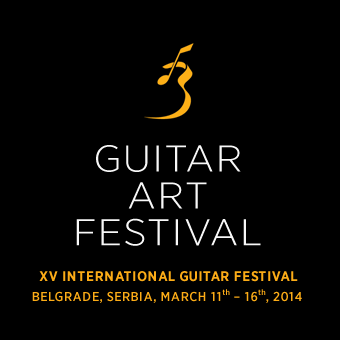 Guitar Visual Art
(March 10th – 16th, 2014, Belgrade Youth Center, the lobby)
Exibition A POSTERIORI
MONDAY, 10 MARCH
19h – Opening of the exhibition
Photography exhibition
A POSTERIORI
bears a symbolic headline and referes to a review and comprehension of the creative work of the Guitar Art festival during the last fifteen years. The concept of this year's exhibition comes from the title itself, where based on knowledge, proof and experience, we give a judgement about past, present and future.
Contrary to the A priori cognition, independent from any kind of experience, we are guided by the A posteriori principle, in which, based on our many years of experience, we perceive fifteen years long tradition of Guitar Art Festival. We hereby present the most significant artists and crucial events, all of those, who have built and shaped and to this day represent the relevant value and importance of this festival. Through this display we present one aspect of our motive, an old begining and present range. The process of shaping and the circumstances where it is being built and maintained, evolve from year to year. Our archive is divided into fifteen modules in which we present the correspondence between the foremost musicians and ourselves.
Presented photographs of Želimir Gvojić which originated in the period of the last fourteen years, recorded many historical moments on the stage of this festival. They are an homage to all of our concerts. Watching this display gives us the ability to reproject sound and picture. By synesthesia, that is, transcending between senses which enables a symbolic perception of two incompatible stimulations: the visualisation of sound, we intend to enable listening of our genuine musical work which generated form the fifteen years period. We evoke and remind the spectator of each year of the festival, where we have gathered the best local and foreign musicians, who created our music by communicating with each other and our carefully assembled audience.
The A posteriori overview principle based on experience enables us to re-examine the basic motive for the creation of this particular cultural festival. We have tried to create a leading and significant centre of trade for knowledge, practice and experience. An attempt to present the universal values and contemporary tendencies of guitar culture in a different manner. We have organized concerts of the biggest contemporary classicists; we were the honorary venue of the worlds musical premiers but also the ones to bring musicians like Paco de Lucia, Sting, Ennio Morricone, Pepe Romero and many others to Serbia. With this concept and our original motive we have been able to open ourselves to the world of high retrospective art and to bring back that world to our homeland. In this reflective and retrospective overview we have come to statistical and artistic conclusions and needs which will be used to build the next fifteen years of Guitar Art Festival. We leave it up to you to make your own A posteriori judgement.
Guitar Art Festival open competition for students of video and audio production, as well as for students of photography.
Guitar Visual Art
11-16. March 2014.
Competition
Guitar Visual Art brings a new segment to its concept this year. Besides the traditional representation of visual arts, we want to gather and enable creative young people to make their own multimedia art works at Guitar Art festival. The festival is building a concept for the last XV years which can be a platform for various creative industries. From its beginning, the festival has connected different activities and today it does not only represents a celebration of guitar creativity but it is also guided by modern creative ideas of cultural and artistic event.
Guitar Visual Art has organized a competition for student video and audio production as well as for student photography. The goal of this segment is a desire to enable education, practice and promotion of other artistic creators, which is the one of the basic motives for the Guitar Art festival itself. Students will create works by artistic categories and will have a guitar as its subject. In that way, the Guitar Visual Art will build its base of artists who will present their own artistic expression of this motive and event. The festival also wants to enable education, practice and promotion for these young artists.
At the Guitar Visual Art competition 2014, students of the Faculty of Applied Arts in Belgrade, section for photography, and students from audio/video production from SAE Institute will participate.
All information:
kurs@gaf.rs